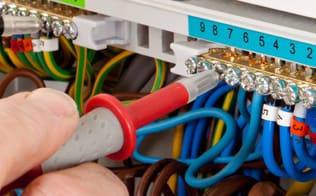 What is Fixed Testing
Fixed Installation Testing may also be known as:
Electrical Installation Condition Reporting
Periodic Inspection & Testing
Fixed Wire Testing
Hard Wire Testing
Test & Inspection
Fixed Testing
Periodic Testing
Electrical Testing
Fixed wire installation testing involves the testing of electrical services and systems that conduct electricity around a building. It covers all of the hard wiring in a building and includes items such as main panels, distribution boards, lighting, socket outlets, air conditioning and other fixed plant.
Fixed wire installation testing involves performing a sequence of rigorous visual inspections and electrical tests on all systems in the building. For details of the individual inspections and tests click on the Test Procedures link.
Guidance Note 3 of the IEE Wiring Regulations states:
"Where diagrams, charts or tables are not available, a degree of exploratory work may be necessary so that inspection and testing can be carried out safely and effectively. A survey may be necessary to identify switchgear, controlgear, and the circuits they control."
In practice this means that engineers carrying out the testing should initially aim to correctly identify all circuits in an installation by looking at a combination of circuit labelling and previous test information and by carrying out circuit tracing where necessary
Guidance Note 3 also states:
"Periodic tests should be made in such a way as to minimise disturbance of the installation and inconvenience to the user. Where it is necessary to disconnect part or whole of the installation in order to carry out a test, the disconnection should be made at a time agreed with the user and for the minimum period needed to carry out the test. Where more than one test necessitates a disconnection where possible they should be made during one disconnection period.
A careful check should be made of the type of equipment on site so that the necessary precautions can be taken, where conditions require, to disconnect or short-out electronic and other equipment which may be damaged by testing."
Periodic testing inevitably causes some disruption on the site due to the requirements for disconnecting electrical circuits at various times during the testing. For this reason careful planning and time management is a necessity, and in practice testing is often best performed outside of normal working hours.
The results and extent of periodic inspection and testing should be recorded on an Electrical Installation Condition Report and provided to the person ordering the inspection. The report must include the extent of the work, limitations, details of defects and dangerous conditions, and schedules of inspections and test results.
Immediately dangerous conditions should be rectified or reported without delay to the relevant duty holder. Other recommendations and observations should be reported using a numbering system to indicate the severity of each observation.
DOWNLOAD LINKS 
Electrical installation condition report
Following the completion of any periodic electrical inspection and test programme the client should be provided with a full and detailed Electrical Installation Condition Report for the works carried out.
The report should include details of the following aspects on the inspection and test:
Details of the client and installation
Extent and limitations of the inspection
Supply characteristics and particulars of the installation
Schedule of items inspected and tested
Schedules of circuit details and test results
Summary of the inspection and test
Observations and recommendations for actions to be taken
Signed declaration by the contractor
In practice reports are usually provided using official numbered NICEIC certificates or in a similar format using one of the bespoke software packages available. The NICEIC format is the most widely recognised and may be a requirement for certain insurance companies or legislative organisations.
Electrical Installation Condition reports should be retained for the lifetime of the installation and should be made available by the client to any contractor who carries out the inspection and test in the future.
Observations and Recommendations
Any Periodic Inspection Report should include details of 'Observations and Recommendations for Actions to be Taken', sometimes referred to as remedial actions.
The NICEIC format for reporting observations and recommendations is as follows:
Where observations are made the inspector will have entered one of the following codes against each observation to indicate the action (if any) recommended:
'Danger present. Risk of injury - requires urgent attention'

'Potentially dangerous - Urgent remedial attention required'

'Improvement recommended'
Many companies that specialise in providing electrical testing services do not carry out remedial works. These companies will have no interest in carrying out the remedial actions detailed in the Electrical Installation Condition Report and this may act as an assurance to the client that any observations and recommendations detailed will be objective and unbiased.
The frequency of periodic inspection and testing must be determined taking into account:
the type of installation

its use and operation

the frequency and quality of maintenance

the external influences to which it is subjected